Paul Van Hoeydonck at the Villers-la-Ville Abbey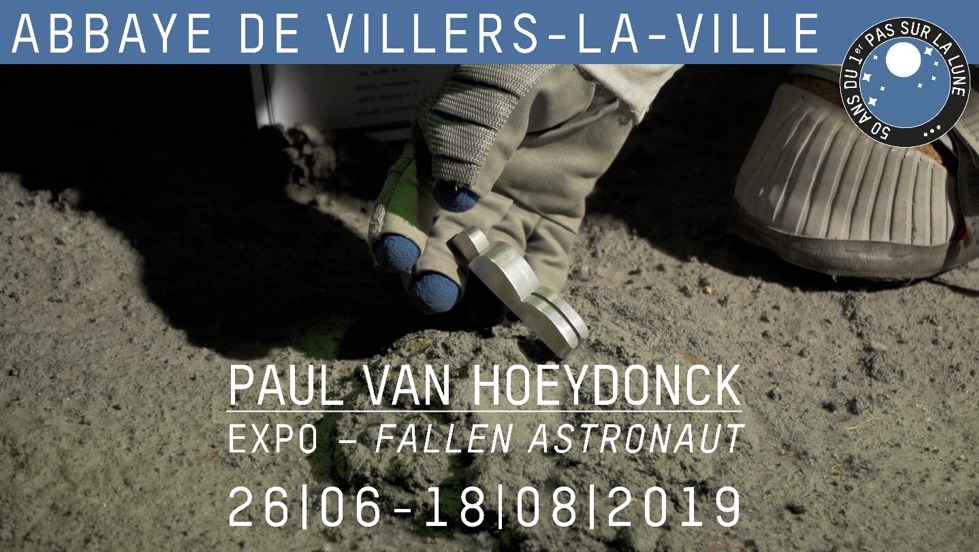 12/06/2019
From Villers Abbey to the Moon
On the occasion of the 50th anniversary of the man's first step on the Moon, the Abbey of Villers exhibits the works of the Belgian sculptor and painter Paul Van Hoeydonck, famous all over the world for being the author of the only work of his art deposited on the Moon: Fallen Astronaut.
Fallen Astronaut
Tintin is not the only Belgian to have walked on the lunar soil. There is also the Fallen Astronaut, a small aluminum sculpture of an astronaut in his spacesuit. This work of art by the artist Paul Van Hoeydonck of Antwerp is deposited on the Moon by the Apollo 15 mission on August 2, 1971, at the foot of a commemorative plaque bearing the names of American and Soviet astronauts who died in the conquest of the space.
Paul Van Hoeydonck, an artist in the stars
Astronauts, planets and satellites are constant themes in the artistic process of Paul Van Van Hoeydonck "Still life in space", "Little Astronaut", "Spaceman" or "The robot and its planet", the titles creations of this artist born in 1925 leave no doubt about its appeal for the cosmic and the utopian. More than twenty works (including a replica of Fallen Astronaut) of the Antwerp doctor honoris causa of the University of Liège take place in the Romanesque cellar and the south wing of the Abbey mill.
The moon in virtual reality
Visitors can walk on the moon "for real" thanks to the advanced technology developed by the University of Liège. By styling a virtual and augmented reality headset, the user disconnects from the real world to be immersed in an environment that becomes his new reality. He will have the impression of being physically in the combination of an astronaut and to discover with him in 3D the lunar landscapes, the Apollo module and, of course, the sculpture of Paul Van Van Hoeydonck.
On the way to infinity and beyond
For the illusion to be perfect, the Euro Space Center also offers space visitors a replica of the Saturn V rocket (1 meter in height) and the Ariane IV rocket (6 meters in height) as well as a real astronaut combination.