Pierre Caille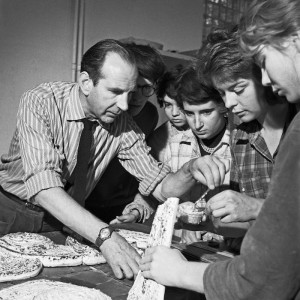 Pierre Caille was born in Tournai on the 11th January 1911. From the age of 14 he started to draw and paint in gouache.
Dissapointed with his courses in sculpture at the Tournai Academy and his advertising courses at La Cambre, Pierre Caille turned to ceramics encouraged by Henry Van de Velde, who urged him to participate in the Arts and Technique exhibition in Paris 1937. He signed up to teach a ceramics workshop at the Cambre between 1949 and 1976.
Caille had a remarkable circle of friends : Edgar Tytgat, Charles Leplae, Georges Grard, Jean Brusselmans and Paul Delvaux. At this time he was attracted to folk art and his meeting with James Ensor was an unforgettable event. His ceramics began to take on a humouristic and lively form. In 1942 he was given the monumental commission for the Belgian pavilion at the International Fair in New York. From 1942, he started to create pieces of jewellery, he was also fascinated by the toy world.
He threw himself into creating a series of forms that made one think of insects, progressively leading him to sculpture where he truly found his own artistic langage. In the middle of the 1950s, Pierre Caille enjoyed general esteem on the international stage. His bronze sculptures were exhibited in 1962 at the Venice Benniale. Later, he used wood which he painted in enamel.
At the start of the 70s, Pierre Caille turned to painting, his canvasses show utopic situations. He imagined familes of coloured animals making faces, his works included a real interaction between different disciplines in which linear stylisation prevailed. The parade of this population is illustrated in the underground station the Botanic in Brussels. Pierre Caille died on the 24th October 1996.